Admission
Online Application Link for First and Direct Second Year Apr - 2021
Admission Details
The polytechnic admits both boys and girls. Reservation will be made as per the norms prescribed by the Government of Tamil Nadu. Admission of students under All India Quota and Orthopedically Handicapped are done by DOTE.
Eligibility Criteria

Category of Admission

Qualification

First Year

Condition for admission to the Diploma courses shall be required to have passed in The S.S.L.C Examination of the Board of Secondary Education, Tamil Nadu.
(Or)
The Anglo Indian High School Examination with eligibility for Higher Secondary Course in Tamil Nadu
The Matriculation Examination of Tamil Nadu.
(Or)
Any other Examinations recognized as equivalent to the above by the Board of Secondary Education, Tamil Nadu.

Note: In addition, at the time of admission the candidate will have to satisfy certain minimum Requirements, which may be prescribed from time to time.
No Age Limit

Second Year
(Lateral Entry)

A pass in HSC ( Academic )# or ( Vocational ) courses mentioned in the Higher Secondary Schools in Tamil Nadu affiliated to the Tamil Nadu Higher Secondary Board with eligibility for university Courses of study or equivalent examination, & Should have studied the following subjects mentioned in the below table.
No Age Limit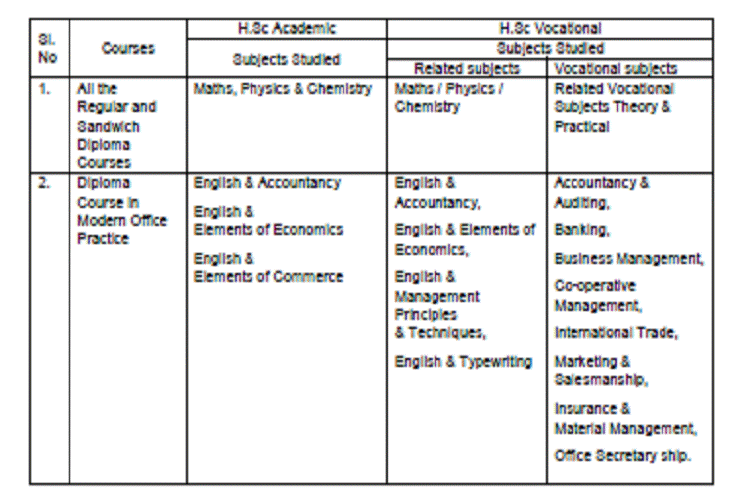 # Subject to the approval of the AICTE
For the Diploma Courses related with Engineering/Technology, the related / equivalent subjects prescribed along with Practicals may also be taken for arriving the eligibility.
Branch will be allotted according to merit through counselling by the respective Principal as per communal reservation.
For admission to the Textile Technology, Leather Technology, Printing Technology, Chemical Technology and Modern Office Practice Diploma courses the candidates studied the related subjects will be given first preference.
Candidates who have studied Commerce Subjects are not eligible for Engineering Diploma Courses.
Fees Structures

PARTICULARS

FEES IN RUPEE(INR)

Admission Fees

02.00

Development Fee

1000.0

Special Fees

1000.0

Caution Deposit

100.00

Mark sheet Verification

50.00

DOTE verification

15.00

NSS Corpus Fund

10.00

Youth Red Cross

20.00

Flag Day Amount

Insurance Amount

05.00

36.00

Total

2238.00
Application for Admission
The Application form and Prospectus can be obtained on payment of Rs. 150/- (For SC/ST Free of cost on submission of the attested copy of Community certificate) in the form of a crossed Demand Draft drawn in favour of The Principal, Government Polytechnic College, Karur, payable at Karur or by cash payment in the office in person. Money Orders and Indian Postal Orders will not be accepted.
Selection of Candidates
Candidates are ranked on the basis of merit and reservation and they will be called for counselling / admission in the order of ranking. The branch will be allotted on the basis of their ranks under the respective reservation quota and the availability of seats at the time of actual counselling / admission.