Laboratories
ABOUT THE DEPARTMENT
The Department of Mechanical Engineering is functioning with 184 Students started in the year 2010. The department is equipped with Special Machines shop, Lathe Shop, Basic Work Shop, Thermal Engineering Lab, Automobile Lab, and CAD/CAM Lab. The laboratories are established with equipments as per DOTE norms.
ABOUT THE COURSE
COURSE CURRICULUM
Diploma in Mechanical Engineering is Three years course and has following papers
Mechanics of Materials
Fluid Mechanics and Fluid Power
Renewable Energy Sources
Manufacturing Technology I
Machine Drawing
Thermal Engineering I
Manufacturing Technology I
Electrical Drives and Control
Design of Machine Elements
Thermal Engineering II
Industrial Engineering & Management
Computer Integrated Manufacturing
Automobile Engineering
Power plant engineering
LAB FACILITIES
Basic Engg. Work Shop
Lathe Shop
Special Machines Lab
Fluid Mechanics and Machinery Lab
Thermal Engineering Lab
Automobile Engineering Lab
Quality control Lab
Metrology Lab
Machine Tool Testing lab
Process Automation Lab
CAD/CAM LAB
BASIC ENGG. WORK SHOP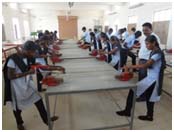 The use of hand tools is the basic skill required for all technical students. Here, the students of all disciplines are given hands on training in handling basic engineering tools in order to give awareness in handling heavy machineries of their branch.
LATHE SHOP


As all we know, lathe is the mother of all machine tools in Mechanical Engineering field. The students are well trained in centre lathe by doing exercise on basic turning, thread cutting, taper turning, multiple threading, knurling, eccentric turning, etc.
SPECIAL MACHINE SHOP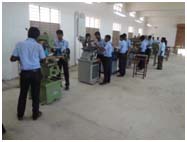 The students are well trained in machining non-cylindrical works by the way of doing exercise in milling machines, cylindrical grinding machine, surface grinding machines, tool and cutter grinding machine by producing different types of gears, types of cutting tools, etc.
THERMAL ENGINEERING LAB
This lab is equipped with all short of equipments for thermal engineering practical, especially single cylinder and multi-cylinder engines, refrigeration test rig, compressor test rig, and Guarded plate apparatus. The skill of testing the performance of the IC engines, refrigerator, and compressor are experienced by the students.
AUTOMOBILE ENGINEERING LAB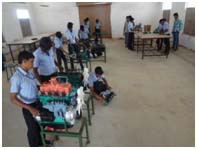 Since automotive industries are booming vertically, the skill in basic automobile engineering is essential for diploma students. In order to cope up our students with the development of automobile industry, the students are given exposure from fundamentals to latest technology like MPFI.
CAD/CAM LAB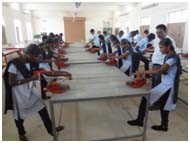 Even though the basic knowledge in conventional machine tools is mandatory for a mechanical engineering student, the knowledge in Computer aided design and computer aided manufacturing is must, since all the manufacturing industries are switchover from conventional manufacturing methods to computer integrated manufacturing. Our students are given training in CAD software and CNC programming to make them fit for the present requirement of manufacturing industries.
PROCESS AUTOMATION LAB
Nowadays, all the process industries, like food and beverages, chemical industries are almost automated by means of equipping with low cost automation like PLC and pneumatic equipments. Our students are given very good exposure in these equipments in order to accustom them-self while they are starting their career in process industries.
PROJECT WORK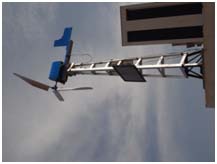 Project work gives exposure on industrial environment, by implementing the theoretical knowledge and practical skill gained through curriculum in to an application. As per the DOTE regulation, students have to submit a project work in the final year. Six students form a group and each group is guided by a faculty. The students are motivated for making their innovative thoughts in to reality.